In the Classroom
We Need Your Help!
Canopy in the Clouds is made for teachers like you, however, we can't improve the site if we don't know who is using it. Please take a moment to tell us a little about yourself!
Canopy In The Clouds is designed to serve as a free educational resource that enhances and enriches your curriculum. The multimedia content is approached from the perspective of a middle school earth and life sciences classroom; however, the material is amenable to a wide range of uses, and we have provided the option of hiding the embedded materials as necessary.
The website is designed to demonstrate changes in a tropical montane cloud forest across a gradient in cloud cover and water availability in Monteverde, Costa Rica. Each numbered link leads to a fully navigable spherical panorama with embedded links to videos, pictures, and text that explains aspects of biology and ecology. As mentioned above, clicking the "natural scene" button can hide these links. Moreover, as noted in the instructions, panoramas can be magnified by using the Shift key to zoom in and the Cmd/Ctrl keys to zoom out.
Canopy In The Clouds is about exploring the forest from multiple perspectives, particularly the canopy. Each ground panorama therefore has an accompanying canopy panorama that includes embedded links, which can be reached by navigating directly overhead within the ground panorama and clicking on "Canopy."
The website is organized with the following information for educational use: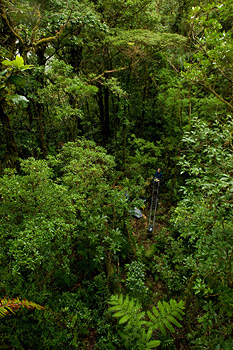 Colin Witherill collecting video media in the cloud forest.
Explore: The clearinghouse for the ground and canopy panoramas that form the heart of our educational resources.
Learn: Introductions to the cloud forest and the canopy with the addition of a glossary of terms.
Teach: Sample lesson plans and other educational resources available for download and use, free of charge.
Media: A large storehouse of additional panoramas, photos, and videos with accompanying text available for educational use.
Canopy In The Clouds is a work in progress and we will continue to update the site regularly. Moreover, we are grateful for your feedback. Please contact Drew Fulton with your comments and suggestions via: drew@canopyintheclouds.com.